By Ellie Church, Maddie Booth and Hollie Ryan, GLOBUS contributors
5,555 disposable coffee cups are thrown away every single minute in the UK, with Warwick University accumulating an annual total of at least 750,000 cups. These numbers are astonishingly unsustainable. It is a problem that never be solved by just replacing traditional single-use cups with plastic-lined paper and compostable alternatives, as these solutions not only contaminate the recycling system but emit more methane than a plastic cup does once disposed in landfills. That's why we founded Warwick Cup – in order to provide one working solution to this issue.
Warwick Cup follows a simple three-step process in an attempt to create systems change surrounding on-the-go drink consumption. You borrow one of our sustainable cups for free, use it around campus and then return it to a collection point as soon as you're finished. The process is backed by our team of volunteers who collect the cups and clean them.
The inspiration for the project came from our time at Monash University, where we had the chance to see how an idea like this would work in a campus environment. Whilst studying at Monash University in our second year, we were introduced to 'Borrow Cup' – a free reusable cup sharing system which cuts down on waste from campus coffee shops. The project was a student-led enterprise, supported by the University and its sustainability team. With Hollie and Maddie being core parts of the team during their time at Monash, and Ellie being an active user, we covered all bases and felt able to implement a similar scheme back at Warwick.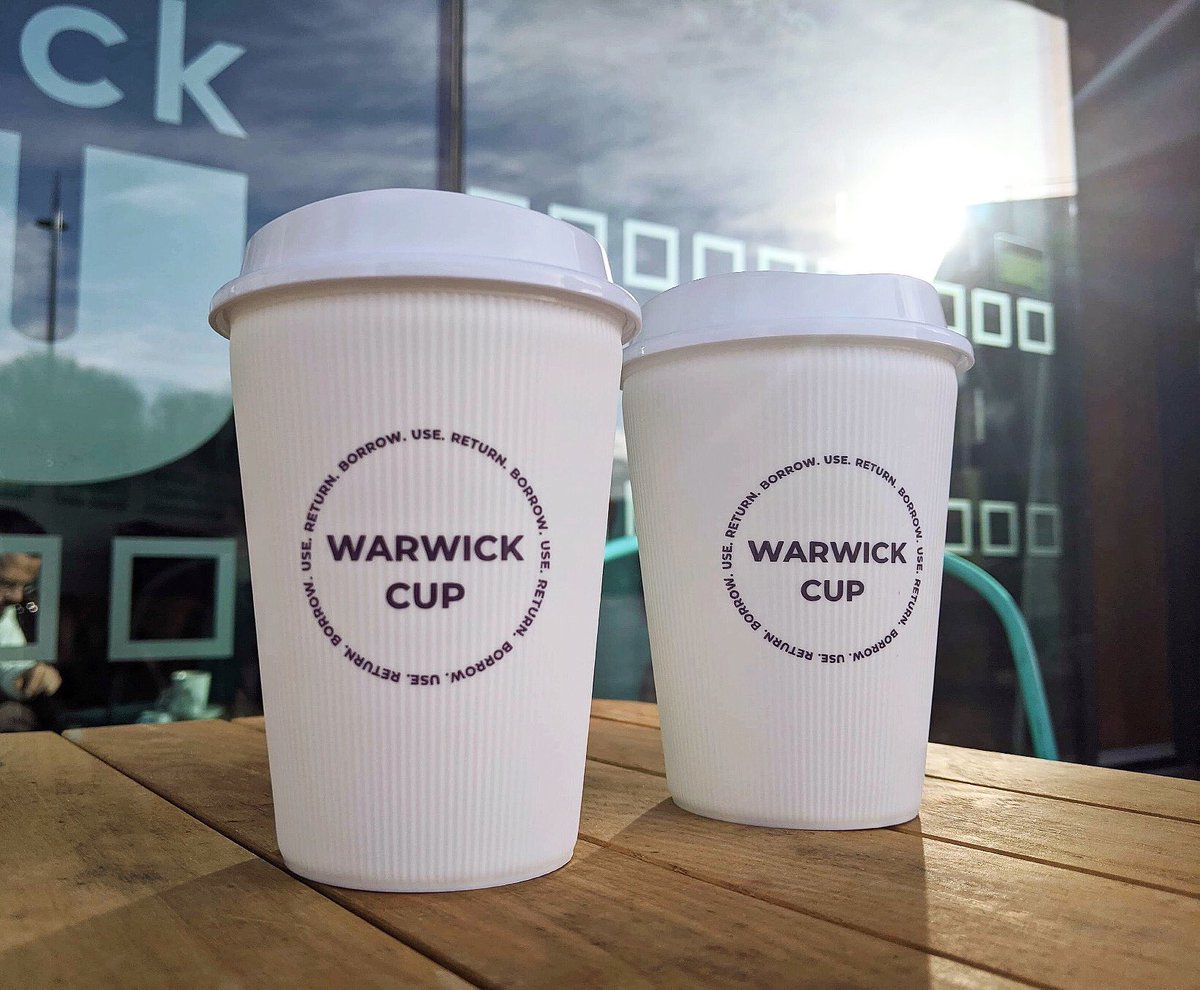 In our journey to set up this scheme at Warwick we encountered many setbacks: reluctance from key stakeholders, rejections from funding bids, delivery date pushbacks and now a global pandemic to contend with! As 3 final year students, we also had to ensure we were still completing our studies to the best of our abilities and keeping on track with our dissertations. We have, however, had many successes, too; we launched in a café in February and were live for 3 weeks (until the end of term), we have secured significant funding for our future, we were in the final five teams of a national HSBC – run competition and have mobilised and inspired many individuals and communities on campus and beyond.
---
"I have always wanted to start a big project and ensure its success at a university- wide scale. The support and encouragement that we have been provided from all over campus and beyond has been invaluable and has really sought to prove the sustainable community that exists. The opportunity to work with these varying groups of individuals has taught me so much about collaboration, teamwork and the importance of creating a community! Working on this has given me the confidence to launch another business, SCRUBBEE, a sustainable beauty product." – Maddie
---
One of the best parts of being a student-led start up is the community we have created. From our first meetings with our department and then senior members of staff, Warwick Cup has been met with enthusiasm and support. Some of the groups we are especially grateful for are Warwick Enterprise, the Global Sustainable Development department, Innovative Materials GRP (& WMG), the Lord Rootes Funding Committee and Curiositea. We are passionate about creating an accessible community for those who want to generate change, either on campus or more broadly and welcome anyone to join us.
---
"Having been involved in many societies and student activities throughout my time at university, I wasn't necessarily worried about working on Warwick Cup alongside my studies. I was, however, cautious as this was my final year and so there was lots going on. Warwick Cup helped me focus as I had to use my time efficiently, and I have found that my grades have been positively impacted. Warwick Cup has pushed me out of my comfort zone and been the most rewarding part of my university experience. Never be afraid to give something a go, where there is a will, there is a way!" – Ellie
---
Getting this start-up from idea to fully functioning project took a lot of hard work and resilience from all of us. We have had to remain sensible about our workload and so knew we wanted a great team to work with us. We quickly recruited a team of about 25 volunteers from all across the university which helped us keep on top of both studies and Warwick Cup. All 3 of us, as well as our wider team, are passionate about Warwick Cup, which helped our motivation when we experienced setbacks. We have learnt that taking risks can really pay off and not to be afraid of failure, we have learnt so much about ourselves throughout the journey.
---
"One thing I really wanted to do before graduating university was to make other students realise that they have the ability to create change on campus and beyond, in order to create local sustainable development. I hope that what we have created alongside Warwick Cup is the realisation that university is not just about completing a degree, but so much more. If you see something in the world that you want to change and it's not being done, there is nothing stopping you from trying and experimenting, a university campus is one of the best places to do this." – Hollie
---
With a strong exec team of 18 members, the future of Warwick Cup looks bright. As we are set to graduate this summer, the handling of Warwick Cup will be passed on in time for the next academic year. In the near future, we envision the ability to hire out Warwick Cups for events run on campus, as well as hoping to expand our partnerships with departments university wide. We are also actively looking for a Technology Officer to help us develop an app, primarily to keep track of our cups. We are excited to be back next academic year, bigger and better! If you would like to be a part of Warwick Cup, message us on Facebook (@WarwickCup) or email us at uowarwickcup@gmail.com!
Header Image by Maddie Booth